We couldn't help but be filled with the Christmas spirit when we saw 40 children spilling over with joy. That's exactly what happened last Thursday evening when four of us attended the Souderton-Telford Rotary Club's Christmas party where the children were the focus of the evening.
Twenty girls and twenty boys, ages 6-9 from the Indian Valley and North Penn Boys and Girls Clubs were escorted to the Indian Valley Country Club by local police officers and welcomed to the party by the Souderton Area High School Interact Club. The Interact Club acted as Santa's elves and helped with entertaining the children.
Following dinner, the children lead everyone in The 12 Days of Christmas and then heard the Biblical reading from Luke 2. Soon after, the jingle bells started to ring and Santa arrived.
The children took turns speaking with Santa and then were sent down a peppermint walkway to receive a large gift bag with presents, a new winter coat, and a new bicycle.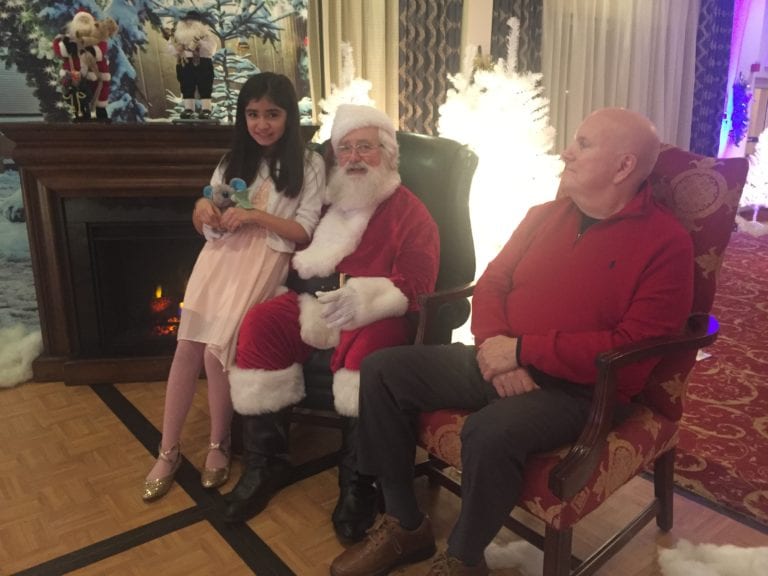 The next stop was the candy station where two Interact elves filled their bag with sweet treats.
Those waiting to see Santa played BINGO until their name was called.
The evening was made possible by donations from a lot of local businesses and individuals in conjunction with the Souderton-Telford Rotary Club. 2018 marks the 25th anniversary of the party being hosted for community children and is a highlight not only for the children but for the adults as well.
To prepare for the party, some of us helped with setting up the decorations to transform the room to a winter wonderland.
It was such an inspiring event!